Hello everyone!
I am posting because I have decided to sell my calash that I made. I am also selling some fabric that I originally purchased for a gown I have decided not to make.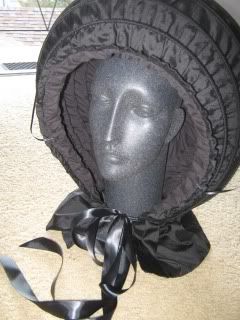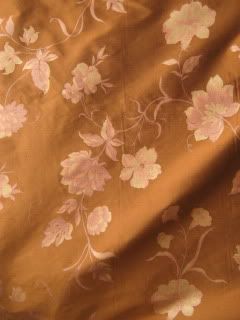 The Calash is made from Black silk dupioni, lined in off black louis vuitton print cotton. There are black satin ties that fasten around the neck, as well as a smaller satin ribbon for pulling the calash up and down. The neckband is padded and covered with satin for extra comport.The back features a pleated Bevolet (or curtian) and is decoratively gathered and accented with braided buttons with beaded details. I am asking $220+ shipping.

The fabric is 7.75 yards Copper floral Dupioni 54" wide. This is 100% Silk, the flowers are painted on, and slightly pearlized. I am asking $90+ shipping.

Calash Listing: http://www.etsy.com/listing/58636435/18th-century-silk-calash-louis-vuitton

Fabric: http://izodiea.livejournal.com/23723.html (I am selling more fabric on this page than what is pictured, but only the Dupioni is 18th c. appropriate.